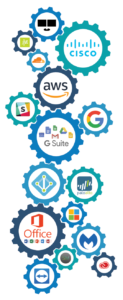 Allineated is an IT consultancy founded to fill a critical gap in the technology integration and service space. We believe that outsourcing core IT services can be efficient and effective, but it must be done in a highly customized way, taking into account the specific needs of individual clients. It is for that reason that our bias is to tailor solutions for individual clients using best-in-class third-party and cloud providers, as opposed to building our own systems which we then apply consistently to each of our clients.
We'll take the time to understand your company's unique workflow as well as both technical and compliance requirements. Using this information, a detailed plan will be created covering (but not limited to) your Organization's hosted/cloud environments, communications, office infrastructure, general software and business continuity. The recommendations are made from the standpoint of a CTO/CISO selecting the best solutions for your organization.
Once the overall plan and specific vendors are approved, we will begin the process of creating direct relationships between your firm and the various vendors with which it does not already have relationships. We will then implement, manage and regularly audit the solutions.
All equipment and services are fully licensed to / owned by your firm. This ensures you always maintain the ability to seamlessly migrate to either in-house or alternative technology management. We do not want to limit your flexibility or to create "lock-in" with proprietary systems.
We do not resell products & services from the vendors / providers we recommend. Rather, our goal is to always find the best and most appropriate partners for your company. Whenever possible, we'll use our partner status to attain discounts in order to ensure your receive the best available pricing.